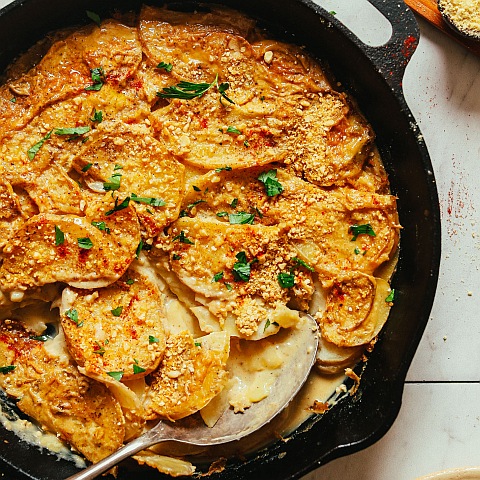 INGREDIENTS
4-5 medium russet potatoes, peeled and thinly sliced
1 small onion, thinly sliced
3 tablespoons vegan butter or olive oil
3 tablespoons all-purpose flour
2 cups unsweetened plant-based milk (such as almond, soy, or oat milk)
1/4 cup nutritional yeast flakes
1 teaspoon garlic powder
1 teaspoon onion powder
1/2 teaspoon smoked paprika
Salt to taste
Fresh thyme leaves, for garnish (optional)
INSTRUCTIONS
Preheat the oven to 375°F (190°C).
In a medium saucepan, melt the vegan butter or heat the olive oil over medium heat. Add the sliced onions and sauté for 2-3 minutes until they start to soften.
Sprinkle the flour over the onions and butter/oil. Stir well to create a roux and cook for another 2 minutes to remove the raw flour taste.
Gradually pour in the plant-based milk while whisking constantly to avoid lumps. Continue to cook and whisk until the mixture thickens and becomes a smooth sauce.
Reduce the heat to low and stir in the nutritional yeast flakes, garlic powder, onion powder, smoked paprika, salt, and pepper. Let the sauce simmer for a couple of minutes to let the flavors meld.
Layer half of the thinly sliced potatoes in a greased baking dish, slightly overlapping them.
Pour half of the creamy sauce over the first layer of potatoes, spreading it evenly.
Add the remaining potato slices in another layer, again slightly overlapping.
Pour the rest of the sauce over the second layer of potatoes, ensuring they are all covered.
Cover the baking dish with aluminum foil or a lid. Bake in the preheated oven for about 45-50 minutes, or until the potatoes are tender when pierced with a fork.
Remove the foil during the last 10-15 minutes of baking to allow the top to brown slightly.
Once the potatoes are cooked and the top is golden, remove from the oven and let it cool for a few minutes before serving.
Garnish with fresh thyme leaves, if desired, for extra flavor and visual appeal.
Enjoy your vegan scalloped potatoes with the cheesy flavor of nutritional yeast flakes. This dish makes a great side for your plant-based meals and can even work as a comforting main course.