Vegan Beyond Meat Ground Beef Spaghetti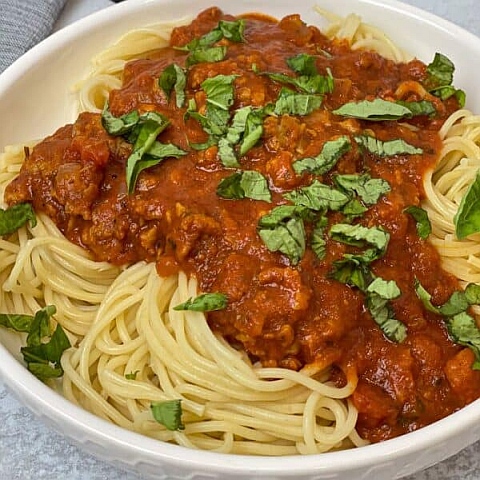 INGREDIENTS
Vegan Vegetable Lasagna with Roasted Garlic Hummus Sauce

Ingredients:

1 lb (552 g) Beyond Meat Ground or 4 Beyond Burgers
1 1/2 tablespoons Avocado oil or oil of choice
1 small Onion, chopped
3 Garlic Cloves, minced
2 teaspoons (10 g) Oregano
2 teaspoons (10 g) Basil
Pinch of Chili Flakes
1 Bay Leaf
1 tablespoon (15 g) Fresh Parsley
1/3 cup (30 g) grated Vegan Parmesan cheese, plus more for serving (e.g., Follow Your Heart or Violife)
14.5 oz (411 g) Diced Tomatoes
15 oz (425 g) Tomato Sauce
1 teaspoon (5 ml) Aged Balsamic Vinegar
Salt & Pepper to taste
1/2 lb – 1 lb Pasta of your choice
 
 
INSTRUCTIONS
1. Prepare the Vegetables:
1. Prepare the Beyond Meat Ground:

If using Beyond Meat Ground, crumble it into small pieces. If using Beyond Burgers, remove them from their casings and crumble.

2. Cook the Aromatics:

Heat the avocado oil in a large skillet over medium heat.

Add the chopped onion and sauté until translucent, about 3-4 minutes.

Add the minced garlic and cook for another 1-2 minutes, until fragrant.

3. Add Seasonings and Beyond Meat:

Stir in the oregano, basil, chili flakes, bay leaf, and crumbled Beyond Meat. Cook for 5-7 minutes, stirring occasionally, until the Beyond Meat is cooked and slightly browned.

4. Create the Sauce:

Pour in the diced tomatoes and tomato sauce. Mix well to combine.

Add the aged balsamic vinegar, grated vegan Parmesan cheese, and fresh parsley. Stir to incorporate the flavors.

Reduce the heat to low and let the sauce simmer for about 15-20 minutes, allowing the flavors to meld. Remove the bay leaf before serving.

5. Cook the Pasta:

While the sauce simmers, cook the pasta according to the package instructions until al dente. Drain and set aside.

6. Combine and Serve:

Once the sauce has simmered to your desired flavor, season with salt and pepper to taste.

Add the cooked pasta to the sauce and toss to coat the pasta evenly.

Serve the Vegan Beyond Meat Ground Beef Spaghetti in individual bowls, topping with extra grated vegan Parmesan cheese if desired.

Enjoy your hearty and flavorful Beyond Vegan Ground Beef Spaghetti! This savory and satisfying dish is a perfect blend of plant-based goodness and classic comfort.