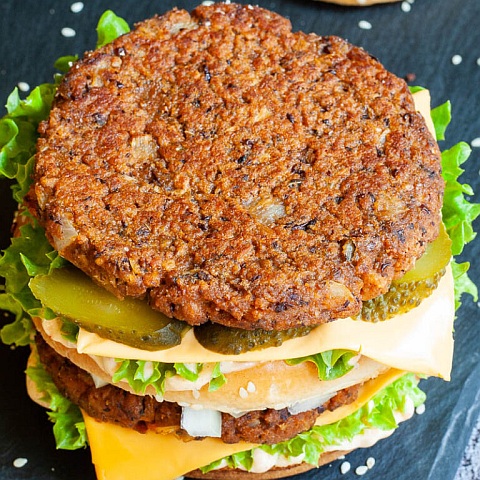 INGREDIENTS
1 cup TVP granules
1 cup hot vegetable broth
2 tablespoons olive oil
1 onion, chopped
2 cloves garlic, minced
1 bell pepper, chopped
1 jalapeño pepper, finely chopped (adjust to taste)
1 can (14 oz) diced tomatoes
1 can (15 oz) kidney beans, drained and rinsed
1 can (15 oz) pinto beans, drained and rinsed
1 tablespoon chili powder
1 teaspoon cumin
1/2 teaspoon paprika
1/2 teaspoon oregano
1/4 teaspoon cayenne pepper (adjust to taste)
Salt and pepper to taste
Optional toppings: chopped green onions, shredded vegan cheese, vegan sour cream, chopped cilantro
Salt to taste
INSTRUCTIONS
In a bowl, combine the TVP granules and hot vegetable broth. Allow them to soak and rehydrate for about 10-15 minutes, or until the TVP is soft and has absorbed the liquid.

In a large pot or Dutch oven, heat the olive oil over medium heat. Add the chopped onion and sauté for about 2-3 minutes, until it becomes translucent.

Add the minced garlic, chopped bell pepper, and jalapeño pepper to the pot. Sauté for another 2-3 minutes until the peppers start to soften.

Stir in the rehydrated TVP and mix well with the onion and pepper mixture.

Add the diced tomatoes (with their juices) to the pot. Mix in the kidney beans and pinto beans as well.

Sprinkle the chili powder, cumin, paprika, oregano, cayenne pepper, salt, and pepper over the mixture. Stir to combine all the ingredients.

Bring the chili to a simmer. Cover the pot and let it cook for about 15-20 minutes, allowing the flavors to meld and the TVP to absorb the flavors.

Taste and adjust the seasonings as needed. If you prefer a spicier chili, you can add more cayenne pepper or jalapeño.

Once the chili is heated through and the flavors have developed, it's ready to serve.

Ladle the TVP country-style chili into bowls and top with your choice of optional toppings, such as chopped green onions, shredded vegan cheese, vegan sour cream, and chopped cilantro.

Serve the chili with cornbread, rice, or tortilla chips for a complete meal.
Enjoy your hearty and flavorful TVP country chili! This recipe is versatile, so feel free to modify the ingredients and spices to suit your taste preferences.