Soy Curl – Orange Chicken Strips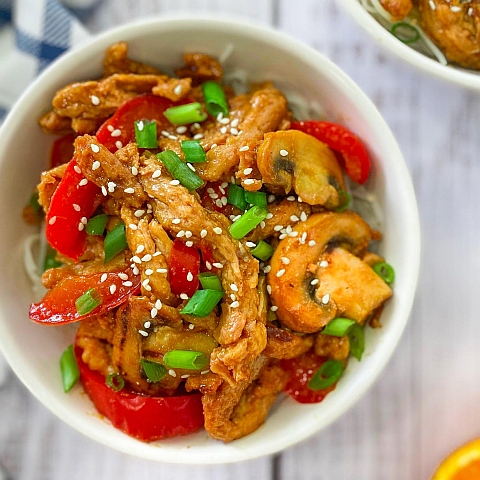 Ingredients
For the Soy Curl Orange Strips:
4 oz soy curls (about half a pack of Butler's soy curls)
8 oz mushrooms, sliced
1 red bell pepper, thinly sliced
For the Marinade:
1 cup low sodium vegetable broth
1/2 cup freshly squeezed orange juice (approximately 1 large orange)
1 teaspoon orange zest
1/3 cup rice vinegar
1/4 cup tamari or soy sauce (if not avoiding gluten)
1/4 cup maple syrup
1 teaspoon garlic powder
1/2 teaspoon ground ginger
1 tablespoon cornstarch or 2 tablespoons all-purpose flour
Serve With:
Vermicelli noodles or brown rice
Sesame seeds
Green onion
Instructions
Prepare the Soy Curls:

Begin by rehydrating the soy curls. Place the soy curls in a bowl and cover with warm water. Let them soak for about 10 minutes, then drain and gently squeeze out excess water. Set aside.

Make the Marinade:

In a mixing bowl, whisk together the low sodium vegetable broth, freshly squeezed orange juice, orange zest, rice vinegar, tamari or soy sauce, maple syrup, garlic powder, and ground ginger. Ensure that the ingredients are well combined.

Thicken the Marinade:

In a small bowl, mix the cornstarch (or all-purpose flour) with a small amount of water to create a smooth paste. Gradually add this paste to the marinade while stirring continuously. This will help thicken the marinade when cooked.

Cook the Soy Curl Orange Strips:

In a large skillet or wok, heat a small amount of oil over medium-high heat.
Add the rehydrated soy curls to the skillet and cook for about 3-4 minutes, or until they start to brown and become slightly crispy.

Add Vegetables:

Add the sliced mushrooms and red bell pepper to the skillet. Sauté for an additional 3-4 minutes, or until the vegetables are tender and slightly caramelized.

Pour in the Marinade:

Pour the prepared marinade over the soy curls and vegetables in the skillet. Stir well to ensure everything is coated with the flavorful marinade.

Simmer and Thicken:

Allow the mixture to simmer for about 5-6 minutes, allowing the flavors to meld and the sauce to thicken.

Serve:

Serve the Soy Curl Orange Strips over vermicelli noodles or brown rice. Garnish with sesame seeds and sliced green onion for added flavor and texture.

Enjoy:

Delight in the savory and citrusy flavors of your homemade Soy Curl Orange Strips. This dish pairs perfectly with the chosen base of vermicelli noodles or brown rice.

Note: Feel free to adjust the amount of cornstarch or flour to achieve your preferred level of sauce thickness. Additionally, you can customize the vegetables used in the recipe to suit your taste.