Korean Vermicelli Sweet Potato Noodles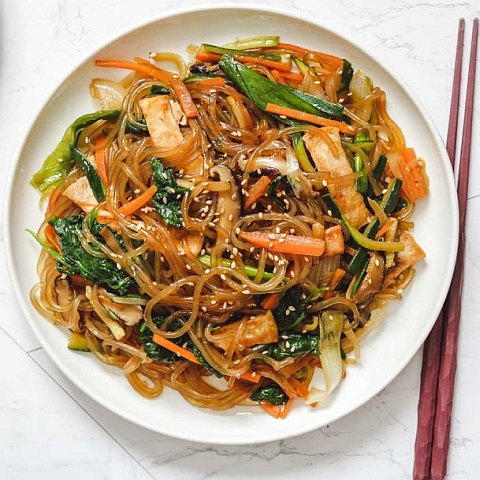 Ingredients:
1 package (250g) of sweet potato noodles
1 package (300g) of firm tofu
1 medium zucchini (about 200g)
1 small carrot (about 130g)
1 medium onion (about 150g)
3 scallion stalks
3 garlic cloves
6 rehydrated shiitake mushrooms
A generous handful of spinach
Sesame seeds
Sauce:
5 tablespoons of soy sauce
2 tablespoons of sugar
1 tablespoon of sesame oil
Instructions:
Start by preparing the sweet potato noodles. Boil a pot of water and cook the noodles according to the package instructions. Once cooked, drain and rinse the noodles with cold water. Set aside.

While the noodles are cooking, press the tofu to remove excess moisture. Cut the tofu into bite-sized cubes and set aside.

Prepare the vegetables: Slice the zucchini into thin strips. Julienne the carrot into matchstick-sized pieces. Thinly slice the onion. Chop the scallions, separating the white and green parts. Finely mince the garlic cloves. Slice the rehydrated shiitake mushrooms into thin strips.

In a small bowl, combine the soy sauce, sugar, and sesame oil to create the sauce. Stir until the sugar is dissolved.

Heat a large skillet or wok over medium-high heat. Add a splash of oil and sauté the garlic until fragrant. Add the tofu cubes and cook until they are golden and slightly crispy. Remove the tofu from the skillet and set aside.

In the same skillet, add a bit more oil if needed. Sauté the onion and white parts of the scallions until the onion becomes translucent.

Add the sliced shiitake mushrooms, zucchini, and carrot to the skillet. Stir-fry for a few minutes until the vegetables are tender-crisp.

Push the vegetables to the side of the skillet and add the sweet potato noodles to the center. Pour the sauce over the noodles and toss everything together to coat the noodles in the sauce and vegetables.

Add the cooked tofu back to the skillet and toss to combine.

Stir in the spinach and cook briefly until wilted.

Serve the Korean vermicelli noodles hot, garnished with chopped green scallions and sesame seeds.
Enjoy this flavorful and wholesome Korean vermicelli noodles dish, packed with a delightful combination of textures and tastes.