Crispy and Cheesy baked Tofu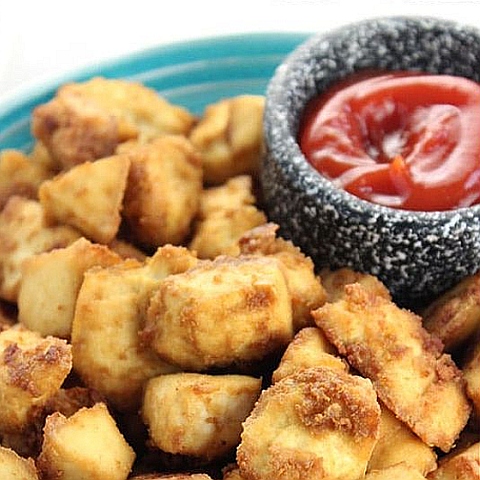 INGREDIENTS
For the tofu marinade:
1 block (about 14 oz) extra-firm tofu, pressed and drained
2 tablespoons soy sauce or tamari
1 tablespoon olive oil
1 tablespoon lemon juice
1 teaspoon garlic powder
1/2 teaspoon onion powder
Salt and pepper, to taste
For the crispy dough crust:
1/2 cup all-purpose flour
1/4 cup cornstarch
1/4 cup nutritional yeast flakes
1/2 teaspoon paprika
1/2 teaspoon dried herbs (such as thyme, oregano, or basil)
1/4 teaspoon baking powder
Salt and pepper, to taste
Water, as needed
INSTRUCTIONS
Preheat the oven to 400°F (200°C).
Cut the pressed tofu into slices, cubes, or sticks, depending on your preference.
In a bowl, whisk together the soy sauce or tamari, olive oil, lemon juice, garlic powder, onion powder, salt, and pepper to create the tofu marinade.
Toss the tofu pieces in the marinade, making sure they are evenly coated. Allow them to marinate for about 15-20 minutes, stirring occasionally to ensure even flavor distribution.
In another bowl, combine the all-purpose flour, cornstarch, nutritional yeast flakes, paprika, dried herbs, baking powder, salt, and pepper to create the crispy dough crust mixture.
Add water to the dry mixture gradually, while stirring, until a thick batter forms. The batter should be thick enough to coat the tofu pieces.
Dip each marinated tofu piece into the batter, ensuring it's coated on all sides.
Place the coated tofu on a baking sheet lined with parchment paper.
Bake the coated tofu in the preheated oven for about 20-25 minutes, flipping the pieces halfway through, until the crust is golden brown and crispy.
Once baked, remove the tofu from the oven and let it cool for a few minutes before serving.
Serve your flavored crispy tofu with your favorite dipping sauce as an appetizer or use it as a protein-rich topping for salads, wraps, bowls, or sandwiches.
The combination of the tofu marinade and the crispy dough crust, enriched with nutritional yeast flakes and cornstarch, creates a flavorful and crunchy texture that's sure to be a hit. Enjoy experimenting with different flavors and dips to suit your taste preferences!