Chickpea Flour Spaghetti with Roasted Vegetables and Herbed Tomato Sauce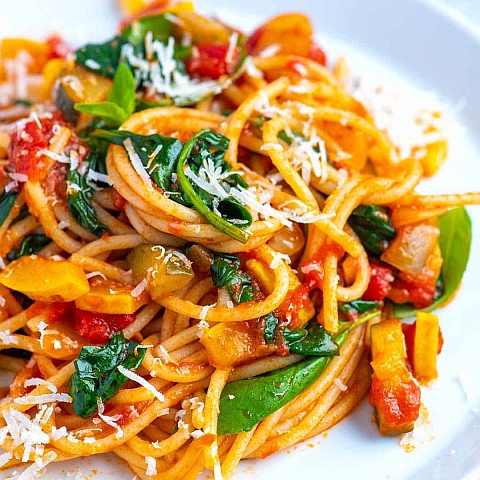 INGREDIENTS
8 oz (225g) chickpea flour spaghetti
2 cups mixed vegetables (such as bell peppers, zucchini, cherry tomatoes, and red onion), chopped
2 tablespoons olive oil
Salt and black pepper to taste
Herbed Tomato Sauce:

2 cups tomato sauce
2 cloves garlic, minced
1 teaspoon dried oregano
1 teaspoon dried basil
1/2 teaspoon dried thyme
Salt and black pepper to taste

Fresh basil leaves, chopped, for garnish
Vegan Parmesan cheese, for serving (optional)
INSTRUCTIONS
1. Roast the Vegetables:
Preheat the oven to 400°F (200°C).

Toss the chopped mixed vegetables with olive oil, salt, and black pepper.

Spread the vegetables on a baking sheet and roast in the preheated oven for about 20-25 minutes, or until they are tender and slightly caramelized. Set aside.
2. Cook the Chickpea Flour Spaghetti:
Bring a large pot of salted water to a boil.

Add the chickpea flour spaghetti and cook according to the package instructions until al dente. Drain and set aside.
3. Prepare the Herbed Tomato Sauce:
In a saucepan, combine the tomato sauce, minced garlic, dried oregano, dried basil, dried thyme, salt, and black pepper.

Heat the sauce over medium-low heat, allowing the flavors to meld. Simmer for about 10-15 minutes, stirring occasionally.
4. Combine the Ingredients:
In a large mixing bowl, combine the cooked chickpea flour spaghetti, roasted vegetables, and herbed tomato sauce. Toss gently to coat everything evenly.
5. Serve:
Divide the Chickpea Flour Spaghetti with Roasted Vegetables and Herbed Tomato Sauce among serving plates.

Garnish with freshly chopped basil leaves for a burst of color and flavor.

Sprinkle vegan Parmesan cheese on top if desired.
Enjoy your nutritious and flavorful Chickpea Flour Spaghetti! This dish brings together the goodness of chickpea flour pasta, roasted vegetables, and a fragrant herbed tomato sauce for a satisfying and wholesome meal.