Crispy and Cheesy baked Tofu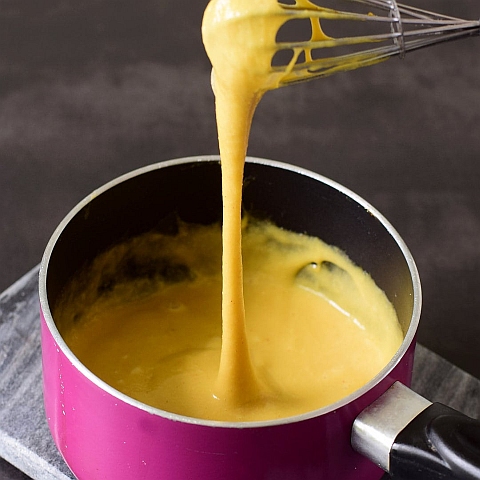 INGREDIENTS
2 tablespoons vegan butter or olive oil
1/4 cup finely chopped onion
2 cloves garlic, minced
1/4 cup all-purpose flour
2 cups vegetable broth
2 tablespoons nutritional yeast flakes
1 tablespoon soy sauce or tamari
1/2 teaspoon onion powder
1/2 teaspoon garlic powder
1/2 teaspoon thyme (dried or fresh)
Salt to taste
INSTRUCTIONS
In a saucepan, melt the vegan butter or heat the olive oil over medium heat.
Add the finely chopped onion and sauté for 2-3 minutes until it becomes translucent.
Add the minced garlic and sauté for an additional 1-2 minutes until fragrant.
Sprinkle the all-purpose flour over the sautéed onions and garlic. Stir well to create a roux, and cook for about 2 minutes to remove the raw flour taste.
Gradually whisk in the vegetable broth to the roux, ensuring there are no lumps. Continue to whisk until the mixture is smooth.
Stir in the nutritional yeast flakes, soy sauce or tamari, onion powder, garlic powder, thyme, salt, and pepper.
Bring the mixture to a gentle boil, then reduce the heat to low. Simmer the gravy for about 5-10 minutes, or until it thickens to your desired consistency. If the gravy becomes too thick, you can add a bit more vegetable broth to thin it out.
Taste the gravy and adjust the seasonings, adding more salt, pepper, or herbs as needed.
Once the gravy is ready, remove it from the heat.
You can serve the vegan gravy immediately over mashed potatoes, roasted vegetables, veggie patties, or any other dishes that you would normally enjoy with gravy.
Feel free to customize the flavors of the gravy by adding other herbs, spices, or even sautéed mushrooms for a richer taste. This basic recipe provides a versatile base that you can adapt to your taste preferences.