Vegan Mediterranean Brown Rice Penne Pasta with Sundried Tomato Pesto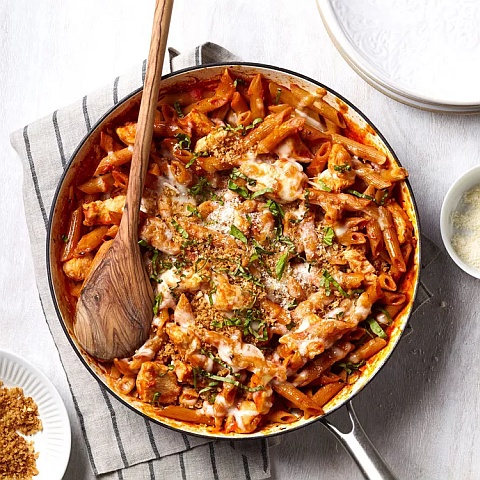 INGREDIENTS
8 oz (225g) brown rice elbows
1 cup raw cashews, soaked in hot water for 1 hour
2 cups baby spinach leaves
Cup Broccoli florets
Cup Artichokes cut in quarters
1 Red Bell pepper quartered
1 Cup of Baby Bella Mushrooms
1 cup cherry tomatoes, halved
2 tablespoons nutritional yeast
2 cloves garlic, minced
1 tablespoon lemon juice
1 tablespoon olive oil
1/2 teaspoon onion powder
1/2 teaspoon dried oregano
Salt to taste
Fresh basil leaves for garnish (optional)
INSTRUCTIONS
Roast the Vegetables:
Prepare the Sun-Dried Tomato Pesto:

In a food processor, combine the chopped sun-dried tomatoes, olives, artichoke hearts, basil, parsley, capers, minced garlic, toasted pine nuts (or almonds), nutritional yeast (if using), and extra-virgin olive oil.
Pulse until the ingredients are well combined and the mixture forms a chunky pesto consistency. Season with salt, black pepper, and red pepper flakes (if using), adjusting to your taste preferences.

Cook the Pasta:

Bring a large pot of salted water to a boil.
Add the penne pasta and cook according to the package instructions until al dente. Drain and set aside.

Combine the Ingredients:

In a large mixing bowl, toss the cooked penne pasta with the sun-dried tomato pesto until the pasta is evenly coated with the flavorful sauce.
Gently fold in the chopped fresh basil and parsley, reserving some for garnish.

Serve:

Divide the vegan Mediterranean pasta among serving plates.
Garnish with the reserved fresh herbs and a sprinkle of vegan Parmesan cheese, if desired.
Enjoy your vibrant and enticing Vegan Mediterranean Pasta with Sun-Dried Tomato Pesto. Immerse yourself in the flavors of the Mediterranean as you savor every bite of this wholesome and delicious dish.

Note: Feel free to customize this recipe by adding other Mediterranean-inspired ingredients, such as roasted red bell peppers, artichoke hearts, or chickpeas. Adjust the seasonings and quantities according to your taste preferences.

.